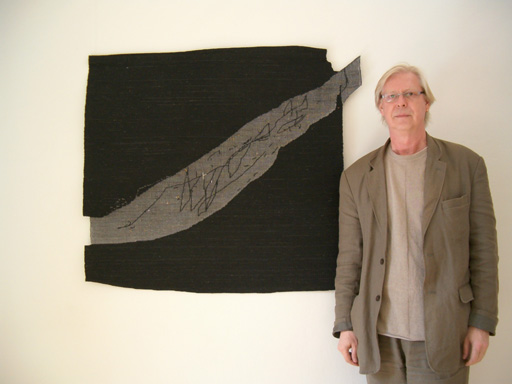 Kalevi Jokinen was born in Helsinki on June 16th, 1947.

He studied art at the Académie des Beaux-Arts in Paris, at the Sorbonne and at the Free Art School in Helsinki. He has subsequently lectured on art in Britain and and in the United States.

After his years of study the artist dedicated himself to his art. His works have been exhibited, among other places, in San Francisco, Stockton, Milan, Copenhagen, Helsinki and various Finnish museums and galleries.

Jokinen's work can be seen in several art collections. The owners include the Nordea Bank, the Bank of Finland, the Finnish State, the state-owned companies Outokumpu and Fortum, private collections in the United States and Professor Ampollini's collection in Italy.

Jokinen's works often show gold shimmering against a black background. The colour black is very important for him, and he says that in his works he wants to express the same kind of thoughts Mahler put into his "Kindertotenlieder": "You must not shut the night into yourself but drown it in eternal light."

Where many people see only black, Jokinen sees many different kinds of black. For him, there is dark black, lighter black, greenish or bluish black.

As a textile artist Jokinen combines various materials: metal, wood and cloth. The handloom is an important tool for him, and metal thread literally runs like a thread through his creations.